˜Country Glow Candles ˜
INTRODUCING our new line of "life Size" Candles:
from Fingertip Fantasies Dollhouse Miniatures
Each full-size candle is individually hand-poured and scented, using top quality products.
Our candles feature "PAPER-Wicks" -no lead.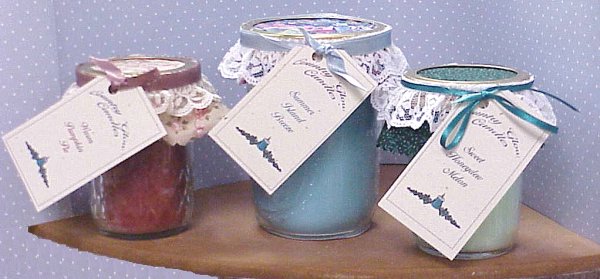 Scents available:

Sweet Honeydew Melon • Frosty Wintergreen •

Yummy Orange Creamsicle

• Fragrant Freesia •

Fresh English Ivy • Spiced Orange Peel •

Cherries & Cream • Baked Apple Pie •

Creamy Cafe Mocha

• Brown Sugar Candy • Warm Pumpkin Pie • Summer Island Breeze • Vanilla Nut • Rich Vanilla Custard • Butter Cream Cake •

New scents will be readily available.

We also have scented white candles -
Your Favorite Scents in a color to match Everything !!