Dollhouse TOOLS for Electrical work Page 1
from FINGERTIP FANTASIES Dollhouse Miniatures



Brad Insertion Simplified
CK1054 Brad Placement Tool Price: $10.96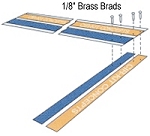 Over the years, the use of tapewire has become the predominate worldwide method of dollhouse wiring. Its versatility and ease of installation had made it the dollhouse electrician's method of choice. However, to achieve low-profile corners, it is necessary to use tiny 1/8" brass brads to create the necessary electrical interconnection. Although these brads serve this purpose very well, they can be frustrating to hold and install.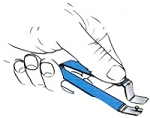 That's where our new CK1054 Brad Placement Tool comes in. With this tool the brad can be held firmly in place as it is inserted into the tape run. No more lost brads or blue language. They are manufactured of stainless steel with a plastic coated handle for a lifetime of operation. The CK1054 should be a must for every tape wiring toolbox.

---
<! --------------------------------------------------------------------------->
Pilot Hole Punch (2 needles) (CK1014-1)
Pilot Hole Punch Needles (2 pack) (CK1014-3)
$7.96
$1.48
An essential tape wiring installation tool, the Pilot Hole Punch provides a convenient method of making starter holes for brass brads at all electrical interconnection points. The diameter of the punching tip is smaller than the smallest brad used, thus reducing the risk of punching excessively large holes in the copper foil tape runs. This ensures creation of the correct size hole for positive electrical connection.

The metal end may be removed for use in locations which might otherwise be awkward or hard to reach. The locking chuck provides an easy method of needle replacement in the event of breakage. Overall length is 4-13/16" with a handle diameter of 3/8". (Included in all Cir-Kit Concepts' tape wiring kits.)
<! --------------------------------------------------------------------------->

---

Test Probe (CK204) $5.96

This unique tool eliminates forever the need for making your own electrical tester. Constructed with two sharp needles and a self-contained light bulb, the CK204 Test Probe can be used at any point along a conductive tape run for electrical testing or finding a tape run under wallpaper.

Simply push the needles into the copper strips and, if electricity is present, the enclosed bulb will light. The .175" pin spacing makes this handy tool useable with any tape system. It also provides proper spacing for placement of the eyelets when installing the CK801 Sconce Adapter or the CK804 series of Chandelier Adapters. Comes with snap top safety cap. Overall length approximately 2".
<! --------------------------------------------------------------------------->

---

Mini Drill (CK201) $9.96

If you've ever had to drill small holes in hardboard materials you know there has to be a better way. The pin vise method sometimes just isn't fast enough. Enter our high-speed drill. This drill has been specifically designed for the hobbyist who must work with all types of material. The overall length is a mere 4-1/2" making it one of the most maneuverable drills available. A 3 to 1 gear ratio gives the drill its fast drilling capability and high torque characteristic. The solid brass chuck is continuously adjustable and accepts all number size bits from 61 through 80. No key is needed since the knurled chuck may be completely tightened by hand. Another distinguishing feature is its hollow handle with threaded cap for storage of bits.

---

No. 70 Bit (CK1025)
No. 75 Bit (CK1025-1)
1/32" Bit (CK1025-2)
No. 66 Bit (CK1025-3)
No. 55 Bit (CK1025-4)


$1.50
$1.78
$1.50
$1.50
$1.50

These tiny bits are helpful aids for installing any of the various Cir-Kit Concepts' wiring and lighting fixtures. Their use greatly enhances and simplifies installation in all types of wood.

The No. 55 bit is used in making starter holes for the CK801 eyelets and for the small hollow eyelets used at tape run interconnect points. Measures .052" in diameter.

The No. 66 wire-size bit is used principally in the CK104 kit for making the proper size hold for "fixture" and "circuit" type wires. Measures .033" in diameter.

The 1/32" bit provides the proper size hole for wall sconce wires. This hole allows the pulling of sconce wires through a wall and electrically connecting them into a conductive tape run on the opposite side of a wall. (The wires are inserted into copper strip holes made with either a push pin or No. 70 bit)

The No. 70 bit may be used in place of a push pin for making .028" holes in copper tape runs This size hole allows easy bradding of either a 12-volt GOW or wire terminal bulb into a conductive tape run.

The No. 75 bit allows drilling of small .021" holes at tape juncture points for easy insertion of 1/8" brads in hardwood or Masonite structures. (May also be used for outlet and switch nails.) The drilling of holes simplifies brad installation and assures a tight electrical fit between the brad and copper st2ip.

All bits may be used with either a 1/4" electric drill or the CK201 Mini Drill.

---

Brass Head Hammer (CK1041)
$9.96
The CK1041 hammer, as shown, has been specially designed and manufactured for Cir-Kit Concepts to aid and simplify the brass brad and eyelet installation process. Its size and weight allow easy use in even the most remote corners of a dollhouse.

Only 5-1/2" long, the hammer is made with a solid brass head and a deeply serrated steel handle for a positive grip. The weighted brass head makes it ideal for any number of miniature building projects!

---

Short Nose Pliers (CK1042)

$12.96

Excellent for holding and inserting 1/8" brass brads in the various tape installation steps, these pliers have proven to be one of the most convenient tools available to the tape wiring installer. No other pliers have the grip and positive feel this one possesses.

Made from special heat-treated steel, the pliers have serrated teeth on both jaws, a self-contained spring for easy opening and plastic-coated handles for comfortable holding. Good for a hundred and one different uses. A "must" for any mini-electrician!

---

Swivel-head Flashlight (CK1043)
Flashlight Replacement Bulb (CK1010-28)

$3.96
$2.48

There is perhaps nothing more frustrating than working inside an unlit dollhouse room. Whether it's during the construction process or when wiring it's no fun working in the dark. That's where our new swivel-head flashlight comes to the rescue. This unique device with its rotating head, small size, and bright, wide beam makes it the perfect answer for lighting even the smallest of dollhouse rooms. Simply place in the room and point in any direction where illumination is required. Its compact size makes it easy to carry in either a pocket or purse. An attached clip on the back also makes it convenient to carry on a belt. Use this uniquely styled flashlight in your car, at the office or in your home; where a quick, bright light is required.

Measures 3-1/8" high by 1-5/8" wide by 3/4" deep. Requires two easily replaceable AA batteries, not included.
---