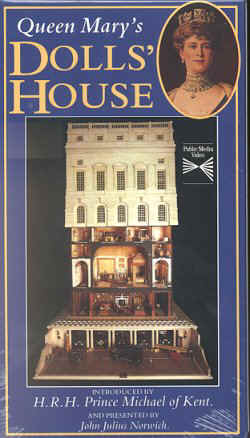 Queen Mary's Dolls' House Video
ON BACKORDER
SPECIAL PURCHASE $39.95
Running time: approximately 50 minutes
Queen Mary's Doll' House is not only one of England's most beautiful stately homes, it is also the most surprising. A mansion in miniature, it was designed by the famous architect Sir Edwin Lutyens and presented to Queen Mary by the nation in 1924. It is the finest dolls' house in the world.
This special video celebration lifts its splendid facade and treats us to a tour of the sumptuous staterooms, luxurious bedrooms, cheerful nurseries and the enchanting garden of this breathtaking creation....
From the exquisite Chippendale chairs to the handwritten book of poems by Rudyard Kipling, everything is a miracle of miniature craftsmanship. The lights work at the flick of a switch, the lifts glide up and down and the gramophone plays.
A priceless museum and authentic social document, the only thing that lacks sparkle in this magnificent Doll's House is the champagne in the well-stocked cellar.