Dollhouse & Miniature Specials
from FINGERTIP FANTASIES Dollhouse Miniatures
To receive "SPECIAL" price you must
inform us when you place the order.

CLOSE OUT BOOKCASE SALE

Shown in Walnut

Shown in Mahogany

Shown in Walnut

$28.00 SPECIAL $14.00
$28.40 SPECIAL $14.20
$21.40 SPECIAL $10.70

5512 Mahogany Corner
5513 Walnut Corner

5518 Mahogany Double
5519 Walnut Double
5515 Mahogany Single
5516 Walnut Single
For all orders over $35.00 you may request a
"FREE" Housework's Catalog.
Value $5.00
This request must be included with your order to be valid.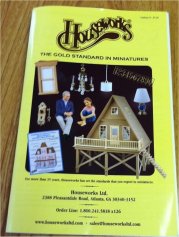 Gift Certificates Available
$25.00
Item
#GC25
$50.00
Item
#GC50
$75.00
Item
#GC75
$100.00
Item
#GC100
Specials
Miniature Ramblings
Accessories
China
Food, Groceries
& Staples
Linens
Seasonal
Alice's
Collections
Chrysnbon
Accessories
Furniture
Medieval Armour
Antique Weapons
Sewing Items
Angels, Fairies &
Fairy Gardens
Cookware
Furniture Kits
Miniature Books
Tea Sets
Animals
Dollhouses
Garden
Miniature Tools
Tools for
Building
Artisan's
Galleria
Electrical
General Store
Model Builders
Supply
Toys
Bed Dressings
Fairy Gardens
Glassware
Wallpaper
Bespaq
Gifts
Hobbies
& Professional
People
Window Decor
Brass
Flooring
& Carpet

Holiday

Picture Frames

Playscale

Building
Components
Flowers
Kitchen
Room Boxes
& Kits
1/2" Scale

All returns must be made within
30 days for a store credit.

Order Form 100% safe

FINGERTIP FANTASIES
Dollhouse Miniatures Shop
401 Main Street
Clayton, DE. 19938
302-653-8800
Open Wednesday thru Friday:
10am to 6pm
Saturday 10am to 4:00pm