Gloop: 8 oz. jar $13.30
Our latex-based dollhouse adhesive, designed to
bond large scale textured pattern sheets to
wooden building shells. A trowelable creamy
adhesive which will not react with the pattern
sheet material and is excellent for sheet styles
which are deeply drawn. Gloop allows
positioning, is non-toxic and washes up
with water before setting.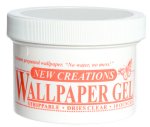 New Creations Wallpaper Gel
Activates Pre-Pasted Wallpaper
"No Water, No Mess"
$7.00 - 10 oz.
$5.00 - 5 oz.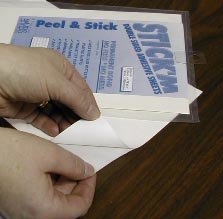 STICK'M: Double-sided contact film $5.49
Excellent for flat surface bonding and laminating of
most materials where long term stress on the bond
is not a factor. Material has removable
contact paper on both sides.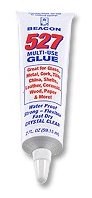 Beacon 527 $5.25
Great for use on china, ceramics, metal, tile,
shells, gems, leather, paper, cork, glass,
wood, cardboard & many more common materials.

Dries crystal clear, fast drying and flexible.
Super strong formula is waterproof.