MBS STICK'M
Easy* Clean *Permanent
double Sided clear adhesive
sheet 6-3/4"x12" Great for
flat bonding of plastic sheets,
carpet, flooring, wall paper,
photos, etc.
2 sheets per pack.
$5.49
MBS GLOOP
Thick strong and creamy,
Gloop is for bonding plastic
patterned sheets indoors
and out on wood, Styrofoam
& metal too. Great for shingles.
8 oz.
$13.30


WB-160 5.4 oz. (160 ml.) $6.80
Weldbond Adhesive - Ready to use, nothing to mix. Wood, glass, ceramics,
porous and non-porous surfaces — Weldbond bonds anything to anything
(with the exception of some types of rubber, plastic, and cast metals).
It's non-toxic, odorless, and cleans up with water. It dries completely within an
hour of application and is transparent when fully bonded.
WELDBOND adhesive is not just another white glue, it's the world's
most versatile adhesive. GLUE, SEALER, HARDNER, WEATHERPROOFER,
DUST PROOFER and BONDING AGENT Weldbond with a catalyzed polyvinyl acetate,
it looks like white glue, but that's where the similarity ends. With a few exceptions,
it will bond most anything, making it an extremely useful product.
Completely safe to use, non toxic * Indefinite shelf life * Water resistant * Use inside or out.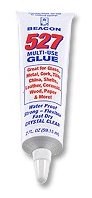 Beacon 527 $5.25
Great for use on china, ceramics, metal, tile, shells, gems,
leather, paper, cork, glass, wood, cardboard & many more
common materials.
Dries crystal clear, fast drying and flexible.
Super strong formula is waterproof.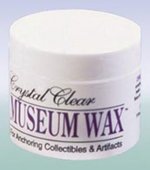 C3661 $6.50
Clear Museum Wax 2 oz.
"The Professional's Choice"
A wax adhesive for miniatures.
Will not stain finishes or dry out.