FINGERTIP FANTASIES Dollhouse Miniatures
A Unique Full Line Miniature & Dollhouse Shop
***DOLLHOUSE SPECIALS***
You MUST Mention Specials when you order.

Witches' Hat
$95.00 NOW $70.00


Features Include:




Porcelain lighted house




Flying witches revolve around "Witch's Hat"




Lights flash simulating lightning




Volume Control and Power Switch for all functions




Adaptor included




This unit will draw approx. 750mA current at 9.0V AC




Approx. size: ( H x W x D )




9 3/8 x 7 x 7 3/8 inches




23.9 x 17.9 x 18.8 cm
Melissa & Doug Dollhouses
VERY LIMITED QUANTITIES

Melissa & Doug Deluxe Wooden Furnished Dollhouse $143.99 SPECIAL $110.00

Features 18 pieces of furniture, 4 dolls, and removable atrium with balcony

Portable two-story wooden Dollhouse

Great value

Great quality

Recommended Age Rating is 3 years and

Multi-Level Solid Wood Dollhouse $149.99 SPECIAL $120.00


This three-level wooden house is easy to assemble and in move-in condition. Five spacious rooms feature two movable staircases and five working exterior doors. Nineteen pieces of hand-painted furniture with working doors and drawers provide the finishing touch.

Victorian Dollhouse $169.99 SPECIAL $135.00
This classic dollhouse features Victorian styling and a pretty pink coat of paint. Hardware and clear instructions are included to assist with assembling the sturdy wooden pieces, which connect with a single type of screw. (No sorting!) After the easy assembly, this elegant home is tough enough to stand up to daily imaginative play. Painted inside and out, it's packed with exquisite details to hold the attention of the older child or collector: The romantic exterior includes intricately patterned friezes and gables, illustrated brackets and latticework; interior details include unique wall coverings in every room, exquisite turned balusters, and beautifully "finished" floors. Use the available furniture sets to outfit the six rooms and move right in with our Victorian Dollhouse Family, or play with any 1:12 scale dolls (about 5 in. tall) and furniture.

M647 $24.99
SPECIAL $18.99


M1747 $$10.00
Dresser Box
SPECIAL $8.00


CLA08680 $9.99
SPECIAL $6.00
DOLL'S DOLLHOUSE, FRONT OPENING
UNFINISHED
Size: 2-5/8"W x 2-1/2"H x 1-1/8"D


T2141
Double Bed
5.75 H x 5.25 W x 6.875D
$28.00 each
SPECIAL $20.00


T2118
Washstand
2.75 H x 3.625 W x 1.625 D
$11.00 each
SPECIAL $8.00


T2115
Night Table
2.25 H x 1.75 W x 1.25 D
$7.00 each
SPECIAL $5.50


T2139
Side Chair
4 H x 2 W x 1.125 D
$10.00 each
SPECIAL $8.00
For all orders over $35.00 you may request a
"FREE" Housework's Catalog.
Value $5.00
This request must be included with your order to be valid.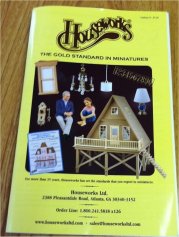 Gift Certificates Available
$25.00
Item
#GC25
$50.00
Item
#GC50
$75.00
Item
#GC75
$100.00
Item
#GC100
Specials
Miniature Ramblings
Accessories
China
Food, Groceries
& Staples
Linens
Seasonal
Alice's
Collections
Chrysnbon
Accessories
Furniture
Medieval Armour
Antique Weapons
Sewing Items
Angels, Fairies &
Fairy Gardens
Cookware
Furniture Kits
Miniature Books
Tea Sets
Animals
Dollhouses
Garden
Miniature Tools
Tools for
Building
Artisan's
Galleria
Electrical
General Store
Model Builders
Supply
Toys
Bed Dressings
Fairy Gardens
Glassware
Wallpaper
Bespaq
Gifts
Hobbies
& Professional
People
Window Decor
Brass
Flooring
& Carpet

Holiday

Picture Frames

Playscale

Building
Components
Flowers
Kitchen
Room Boxes
& Kits
1/2" Scale

All returns must be made within
30 days for a store credit.

Order Form 100% safe

FINGERTIP FANTASIES
Dollhouse Miniatures Shop
401 Main Street
Clayton, DE. 19938
302-653-8800
Open Wednesday thru Friday:
10am to 6pm
Saturday 10am to 4:00pm